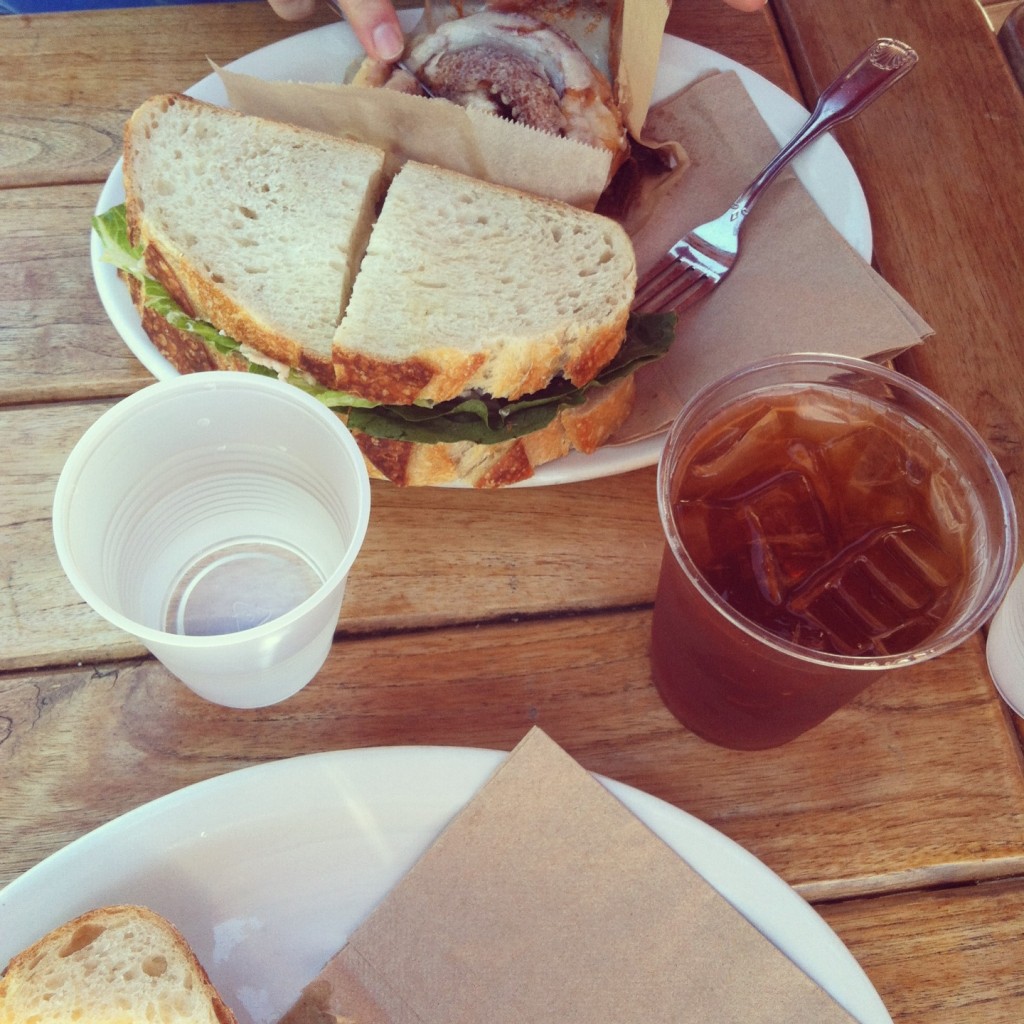 Sorry for the minimal posts this past week. Like I mentioned on Thursday, I'm trying to slow things down a bit, so I've been taking some time off to unplug. Last night when I got home from work, I pretty much crawled straight into bed…Yes, it was before 4:00pm….Don't worry. I just napped for a bit and then took it easy for the rest of the evening. I wanted to be well-rested because I knew I had to work this morning at an event that one of our student organizations puts on every year. The event turned out to be wildly successful!
So other than a few hours of work this morning, David and I didn't do too much today. Unless you count going to one of the most amazing bakeries in San Diego as much…It's this place called Con Pane.  (They are literally so cool they don't have/need a website!) This place was recommended to me by my friend, Emily last weekend and well, I can be hard to please when it comes to food (No pressure, Em!)
But boy did she not disappoint! The menu and all of the baked goods looked so delicious that David and I felt compelled to order a little bit of everything. We went with a turkey sandwich for him, a salami sandwich for me, both on their special Point Loma Sourdough Bread (I don't think Point Loma Sourdough is a delicacy for any reason besides the fact that this place makes it and it's bomb), a warm cinnamon roll to split, and a loaf of Rosemary Olive Oil Bread to go. (Goodbye, healthy February lifestyle…)
Now I cannot yet speak for the Rosemary Olive Oil Bread, as I've demonstrated the utmost self-control up to this point and not tried any of it, but MAN was everything else amazing! I've never been much of a sourdough fan, but when it's advertised as a specialty at a bakery, you try it. And boy have they won me over…not sourdough bread, in general, just this place. It was SO good! The perfect pas de deux of crunchy, flaky crust and soft center. It's the kind of bread you have dreams about. (Oh, you guys don't dream about food?…Yeah, me neither…)
Anyway, you know it's a good day when the majority of my post is about food, so I say we just end things on a high note and call it good. No need to talk about the lovely haircut I got after lunch today. We can just leave some things to the imagination. After all, I thrive on being a woman of great mystery…
Hope you all have a wonderful rest of your weekend and thanks for reading!