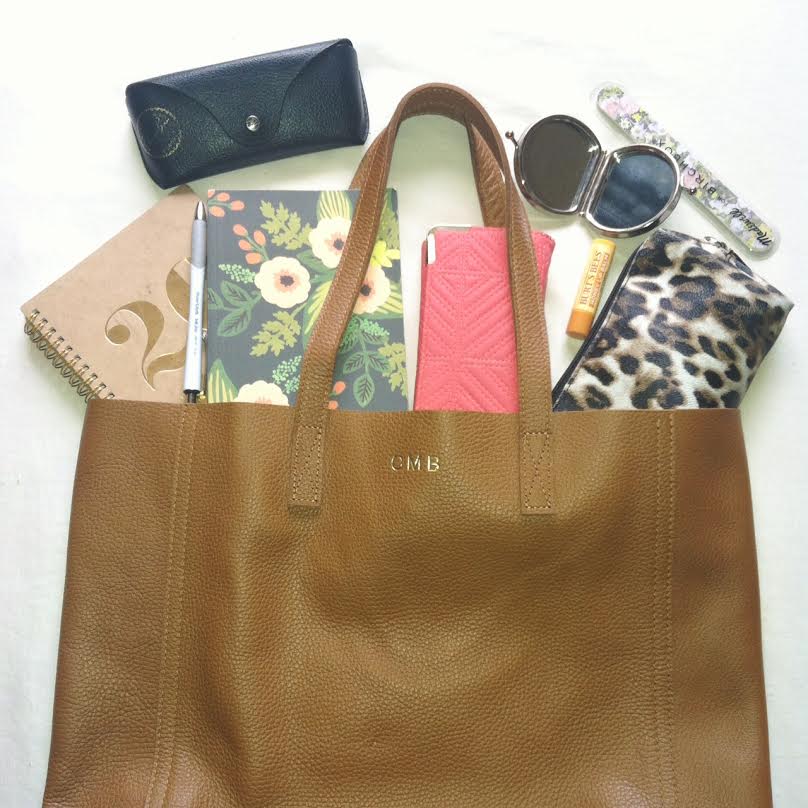 Today I'm going to share with you the everyday essentials that I keep in my bag. My bag of choice is this tall caramel tote by Cuyana. I love this bag because it is made from genuine Argentinian leather and the craftsmanship is unmatched. As an added bonus, you can fit your entire life into it, which is great for those of us who are not good at traveling light. Evidence to follow.
Clockwise from top left:
Ray-Ban Original Wayfarer Classic: I'm extremely photosensitive and always need to have a pair of sunglasses with me, in case of a sunny day (Get it? Like rainy day?)

Compact mirror: I could say it's for instances when I need to reapply my makeup, but let's be honest, I use that thing to check for debris in my teeth. I'm a notoriously messy eater.

Nail file: For all of those broken nail emergency, after you've learned that trying to file your nail on the rough under-side of your desk just doesn't work.

Emergency pouch: This is where I keep Advil, Lactaid pills, Bandaids, a travel-sized roll of toilet paper, a pack of toilet seat covers (Uh oh…is my Mysophobia showing?), and a tube of lip gloss, for those rare occasions when I'm feeling extra girly.

Burt's Bees Honey Lip Balm: Because I have chronically dry lips and it's a real problem.

Wallet:…this seems self-explanatory…

Rifle Paper Co. Jardin Journal: This is my prayer and devotional journal. I write things in it throughout the day, so I always have it on-hand.

Paper Mate Inkjoy 700 RT: While this sounds like the name of a fancy car model, it's really just a great little pen that writes nice and smoothly. We all love a good no-bleed pen, am I right?

Sugar Paper for Target planner (no longer available): If I ever lost my planner, I would forget to eat and go to the bathroom. Not really…but, yes really…

But, Chelsea, there's nothing else left. I know…there's a hole in my tote's heart in the shape of a pack of gum. Trident Original, to be exact.
What can you not leave home without? Share in the comments!