Winter Skincare Essentials: Products & Practices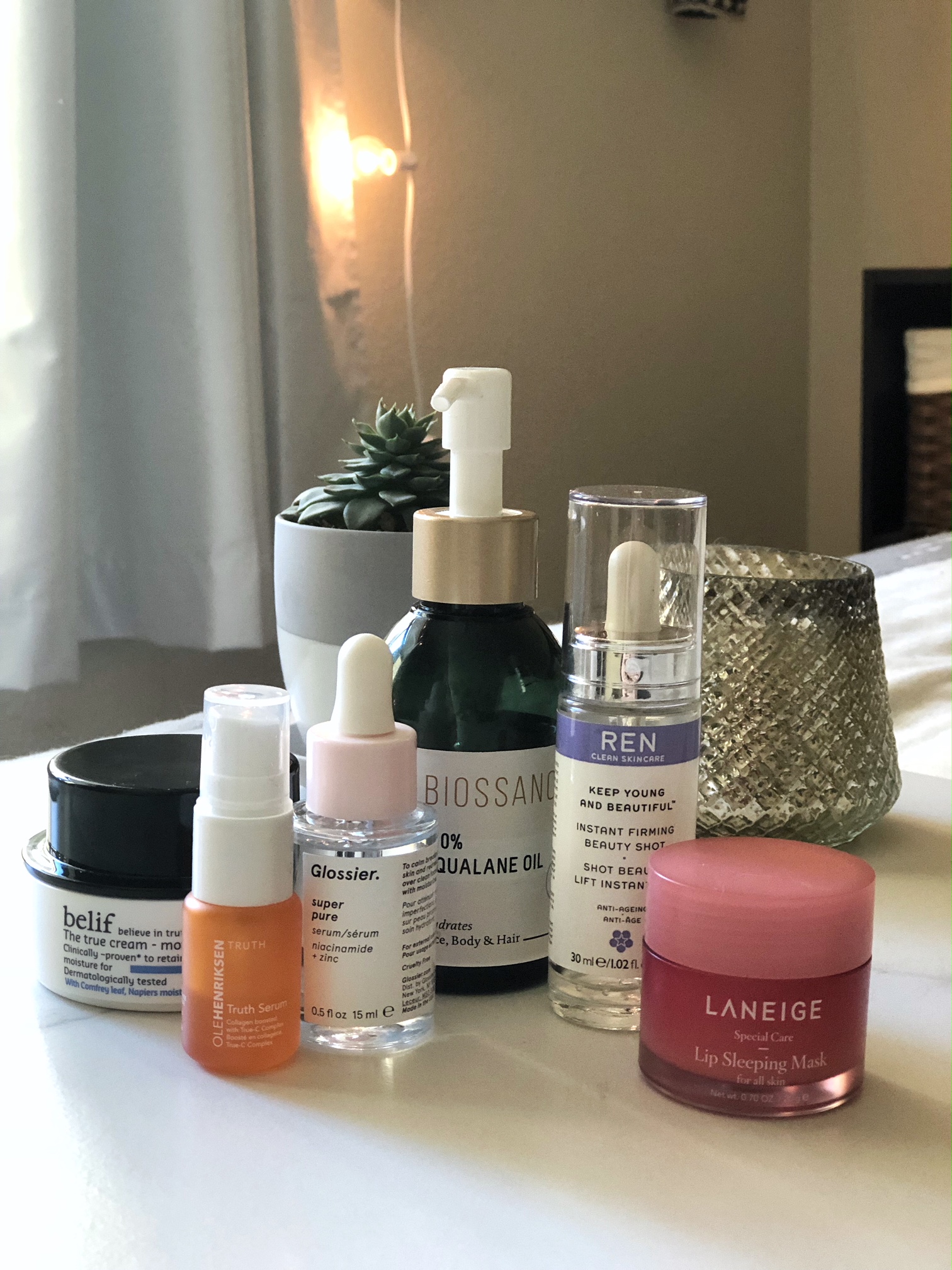 A good skincare routine is important year-round, but if your skin is anything like mine, it's an absolute MUST during the Winter months. Not only does cold, windy weather contribute to dry, flaky, itchy skin, but other factors like running the heater, taking long, hot showers, and washing your hands regularly to avoid cold and flu germs are all major culprits that lead to dreaded Winter skin.
Therefore, it's essential to take extra steps in making sure that your skin is protected and nourished, so I wanted to share some of my favorite Wintertime skincare products and practices. Some of these are things you should really be using/doing no matter the weather and some are especially critial during those colder months.
Morning
Cleanser.
Every morning when I wake up, my first skincare practice is taking a cotton pad with some cleansing water on it and gently wiping my face down. This removes any overnight products and ensures that your face is clean and ready for the day. I like to use the Simple Micellar Water.
I personally only wash my face at night, especially in the Winter. I've found that because my sin tends toward the dryer side, it's best to wash as infrequently as possible.
Serums.
Once my face is clean, I put on any serums I may be using. First comes the Glossier Super Pure serum. It's a mixture of Niacinamide and Zinc and the only acne product I use. It's great because it helps reduce redness and prevent blemishes and after years of dealing with acne, both in my teens and early adulthood, this is the first product that truly seems to keep it at bay.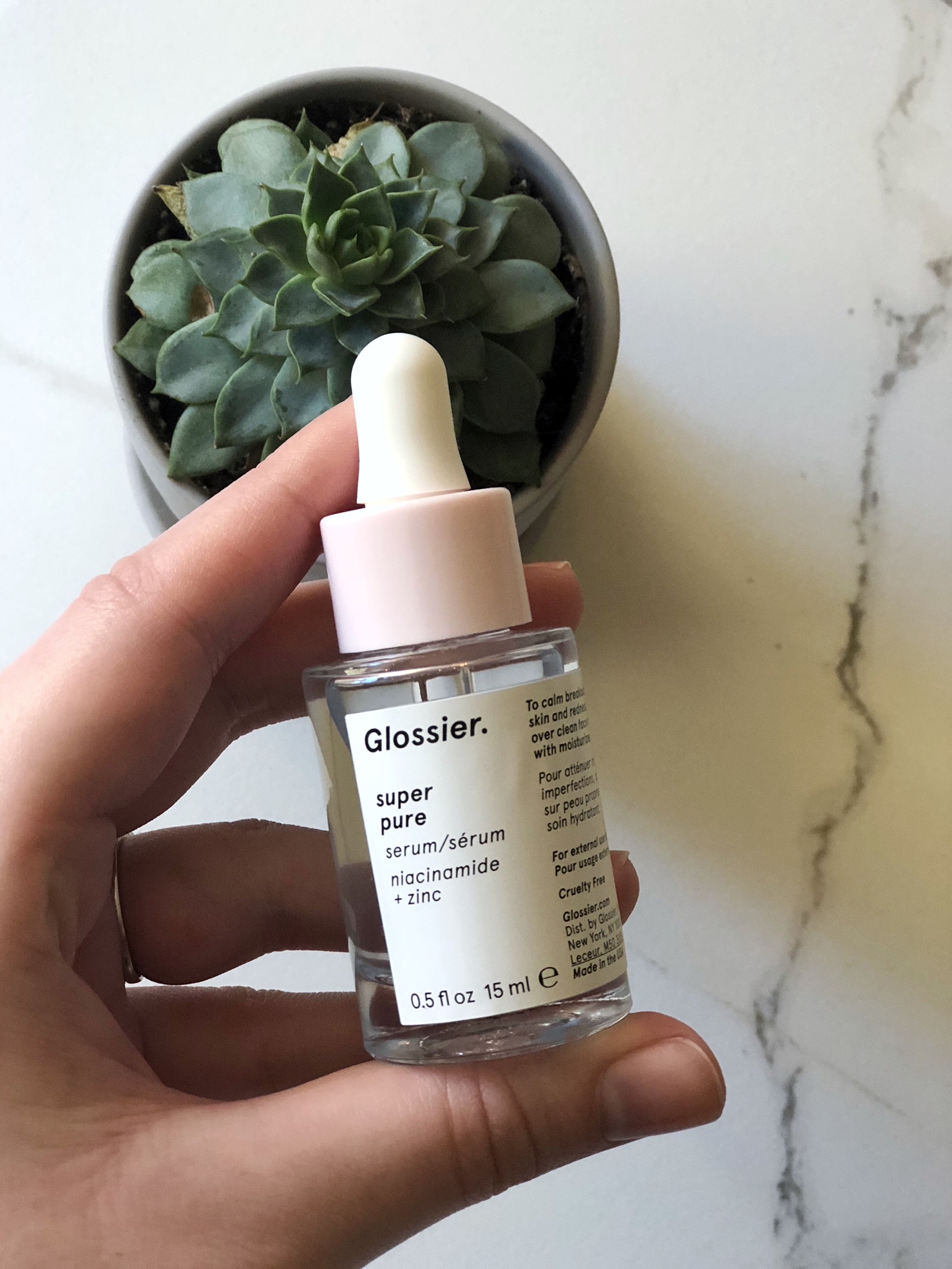 I typically take the dropper and apply three small drops directly to my face. I use this product morning and night, and I love that it doens't dry out my skin at all. Unfortunately, it comes with very little product, so I use it up in about a month.
I follow this up with the Ole Henriksen Truth Serum. It's made up of Vitamin C derivatives, so it helps to brighten, tone, and firm skin. It has a fresh, citrus scent, so I love using it in the morning to help wake my skin up.
Moisturizer.
It goes without saying (but I'm going to say it anyway!) that a good moisturizer in the Winter is a must. That goes for people with oily skin too! Some of my favorites that are extremely hydrating are the Drunk Elephant Lala Retro Whipped Cream, Clinique Moisture Surge, and Belif The True Cream Aqua Bomb. Of these three, Drunk Elephant is probably my favorite. It's ultra-rich and creamy and just feels so luxurious going on your face. My skin just drinks it up. It's also the most expensive of the three, but honestly, it's worth the splurge.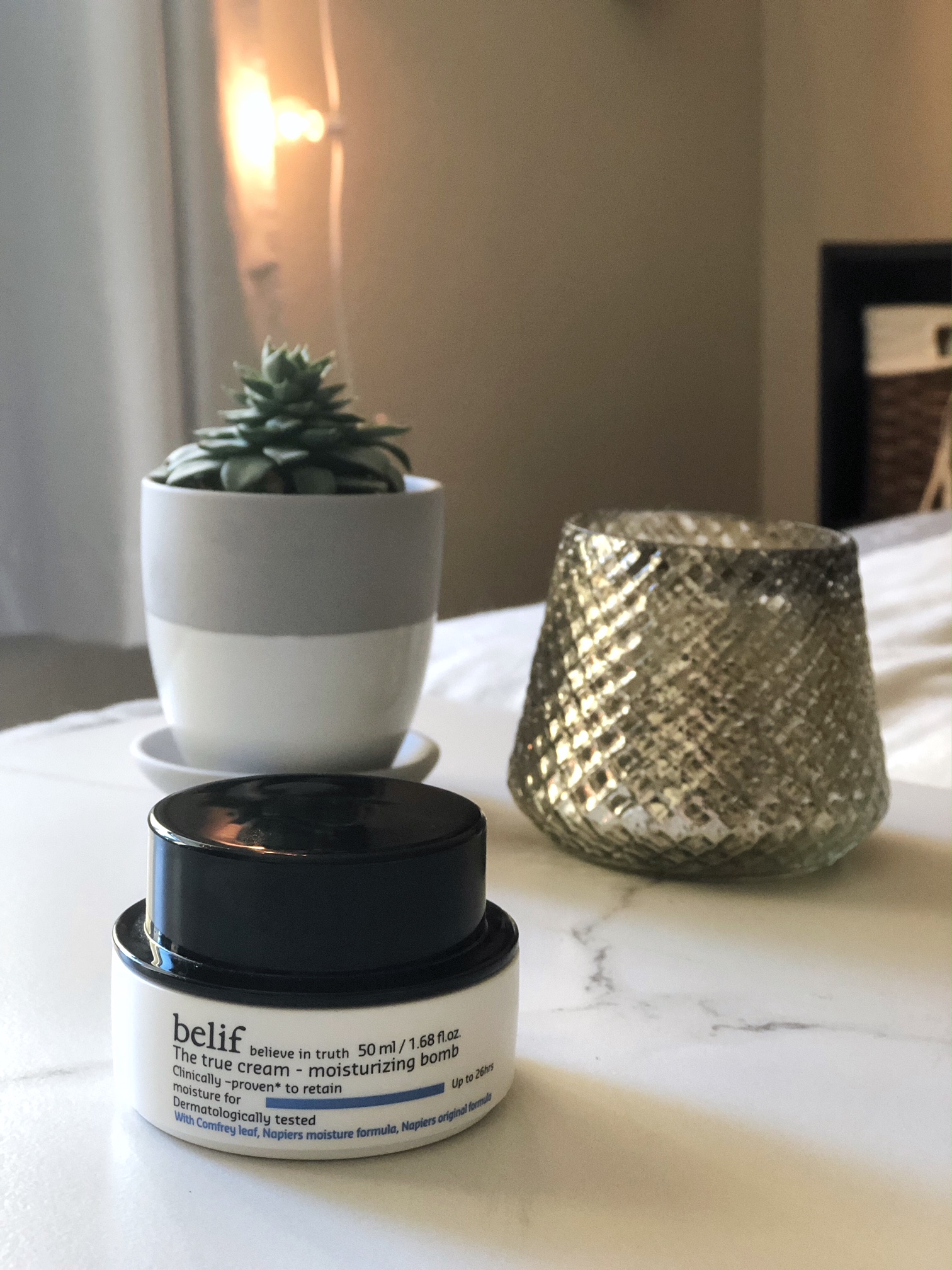 Eye Cream.
I'm new to this area; a by-product of getting older, I suppose, but the more I've used it, the more I wonder how I wasn't using it before. I suffer from severe dark circles under my eyes and one of the main contributers to under eye bags/swelling is dehydration, so an eye cream that is super hydrating is really important for me.
In the morning, I've been using Lancome Genifique Yuex. I like this one because it's nice and light, which is perfect for daytime use.
Morning Pro Tip.
Do your entire skincare routine and then let it set for at least ten minutes before apply makeup products. During this time, I'll usually do my hair. This way, the products have had time to absorb into your skin and won't smear or clump under your makeup.
Nighttime
Cleanser.
Nighttime is when I actually wash my face at the sink. I do this to remove my makeup and any environmental impurities from the day. I've been going back and forth between the Simple Water Boost Micellar Gel Wash and the Drunk Elephant Baby Pekee Bar. This second one is a bar cleanser, which may sound a bit terrifying if you've ever tried washing your face with a bar of Dove soap, but it actually leaves your skin feeling so soft and doesn't dry it out at all.
After this, I remove the last of my makeup with another cotton pad and some Micellar water.
Serums.
Once again, I start off my serum routine with the Glossier Super Pure serum. However, at night, I follow it up with the REN Skincare Keep Young and Beautiful Firming and Smoothing Serum. It does exactly what it claims and really helps to plump and firm your skin. I love this one for nighttime because it has a really fresh, calming scent.
Moisturizer.
In order to keep things as simple as possible, I typically use the same moisturizer for morning and night. In the evening, if my skin is feeling extra dry, I will mix a couple of pumps of Biossance 100% Squalane Oil with my moisturizer for some added hydration.
Eye Cream.
My favorite eye cream to use at night is the Fresh Black Tea Age-Delay Eye Concentrate. This one is a little bit thicker than the Lancome eye cream, so I really like to slather it on before bed.
Lip Mask.
This is another area that is new to me. I'll be honest, I didn't even know there was such thing as a lip mask. However, after years of suffering from chronic and severe chapped, dry, and peeling lips, I'm so glad I've discovered the Laneige Lip Sleeping Mask. It's basically the consistency of a thick lip balm. It comes with a small applicator, which I used the first few times and then stopped because it wasn't really necessary. I rub it all over my lips and then put any excess on my knuckles, and it's made a world of difference for me. I now wake up with soft, smooth lips.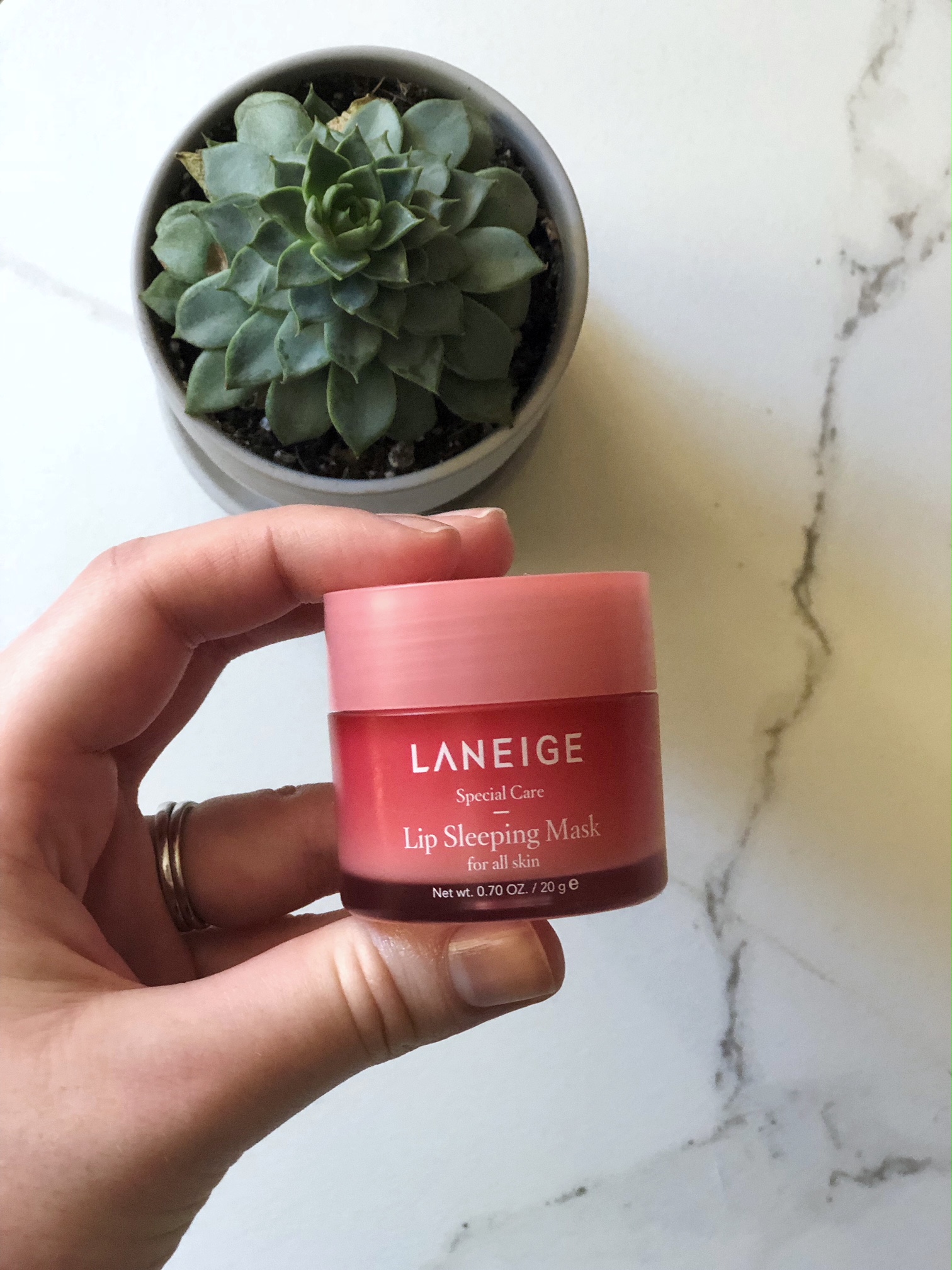 Occasionally, Lip Scrub.
When I do notice some peeling or flaking, I'll use the French Girl Lip Polish before applying my mask and it helps to exfoliate by removing any dead skin. The best thing about this stuff is that because it's a lip polish and not just a typical lip scrub, it contains oils that actually leave your lips feeling hydrated instead of rubbed raw.
Nighttime Pro Tip.
A few times a week, I like to use a facial mask before bed. I keep a bunch of one-time use samples from various brands, all targeting different skin issues. It's nice because I can choose whatever my skin may need at the time. If I'm breaking out, I'll use a clarifying mask. If my skin is looking dull and tired, I'll use a brightening mask. And let's be honest, it's just fun to treat yourself every now and then!
What are some of your Winter skincare tips and tricks? What about your favorite Winter skincare products? Let me know in the comments.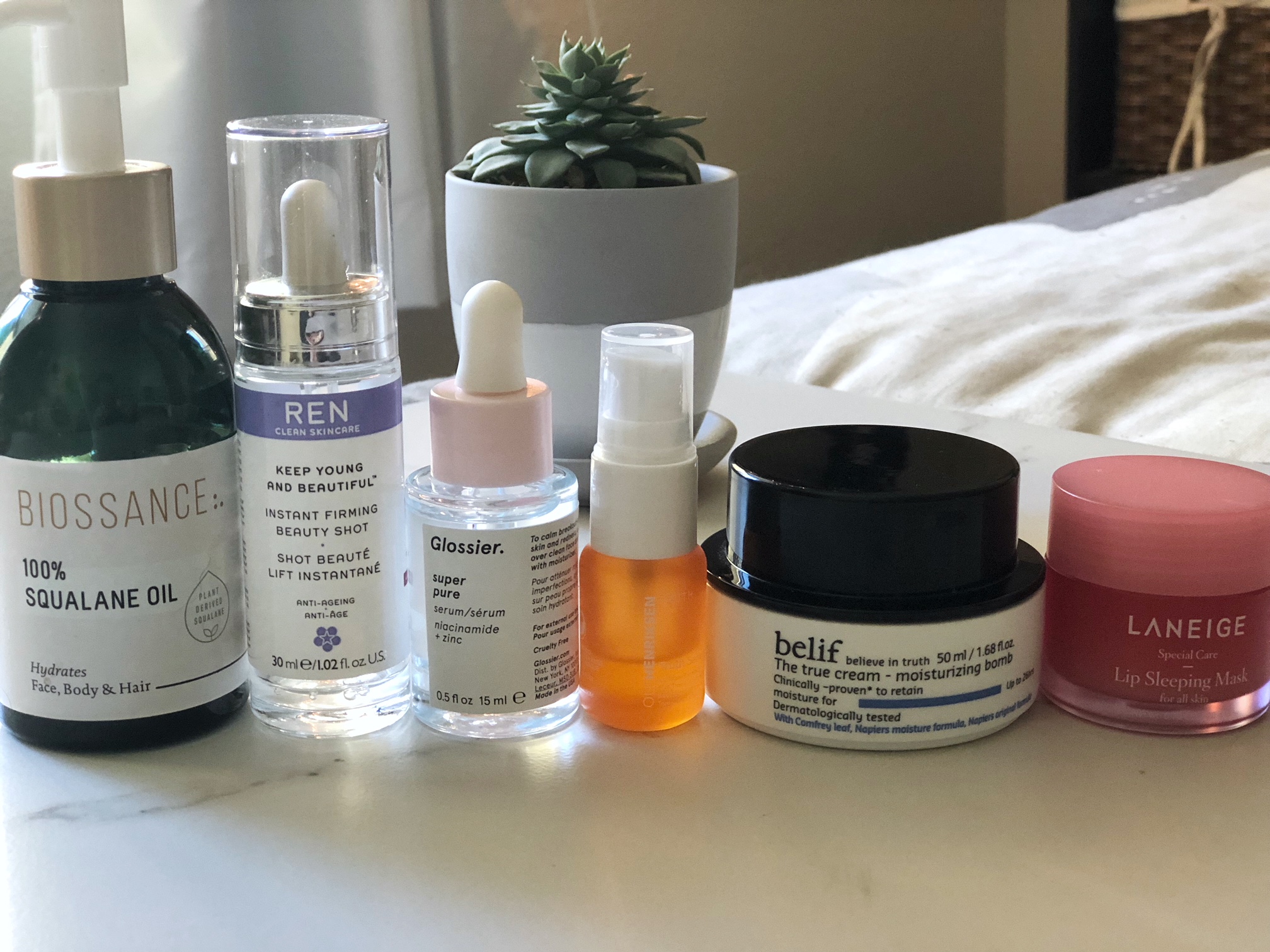 Hope you have a great day and as always, thanks so much for stopping by.
SHOP WINTER SKINCARE PRODUCTS: