Trader Joe's Weekly Haul + Sample Menu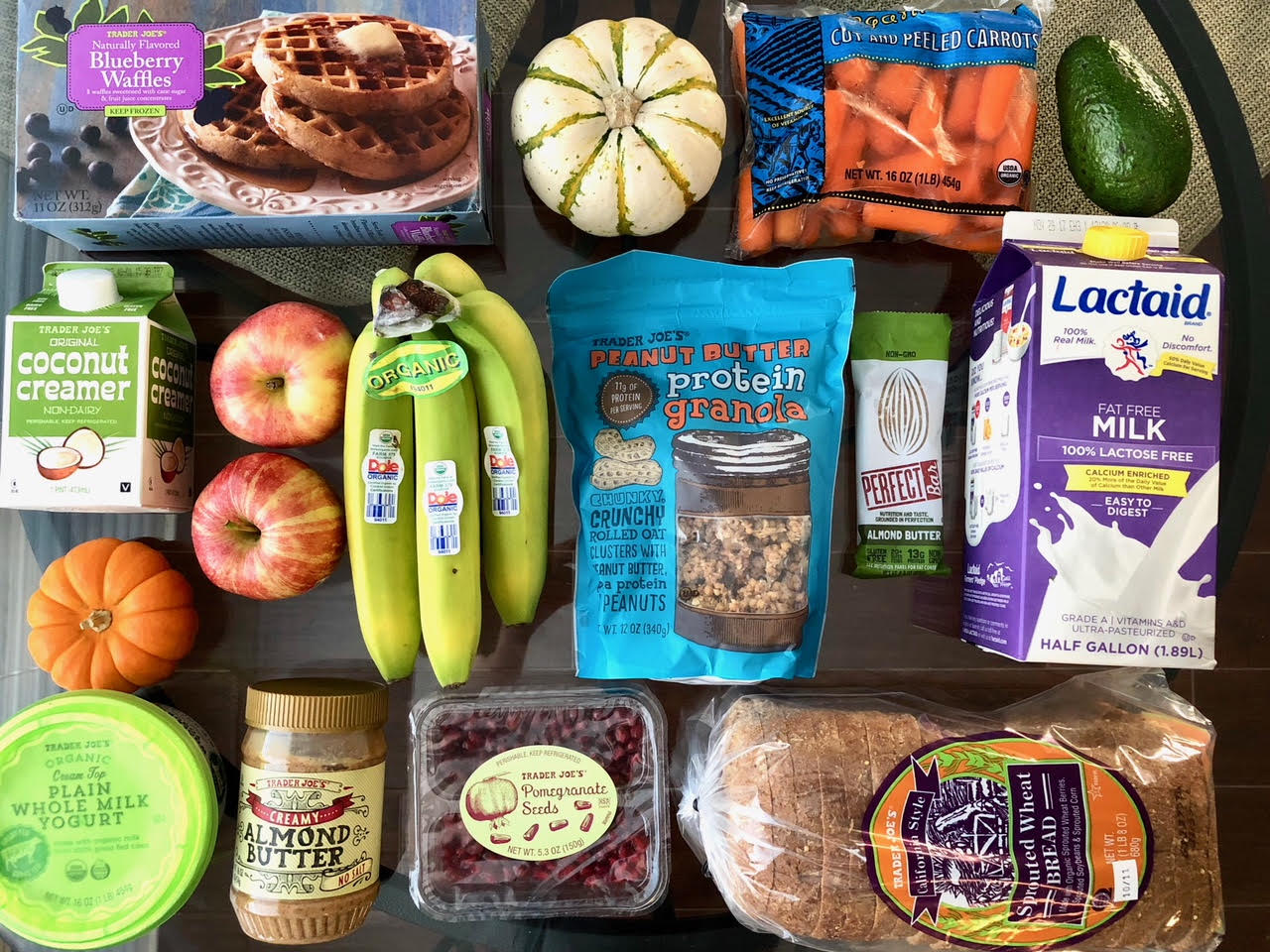 Recently, David and I decided to try out vegetarianism for a period to see how we liked it, so I thought it might be fun to share what we buy at the grocery store in a typical week, along with a sample menu. And when I say, "sample," I mean this is the actual menu I have planned for this week.
This post is called, "Trader Joe's Haul" because that's where we shop, but for the most part, the items are not specific to Trader Joe's and can be found in some form or other at any grocery store.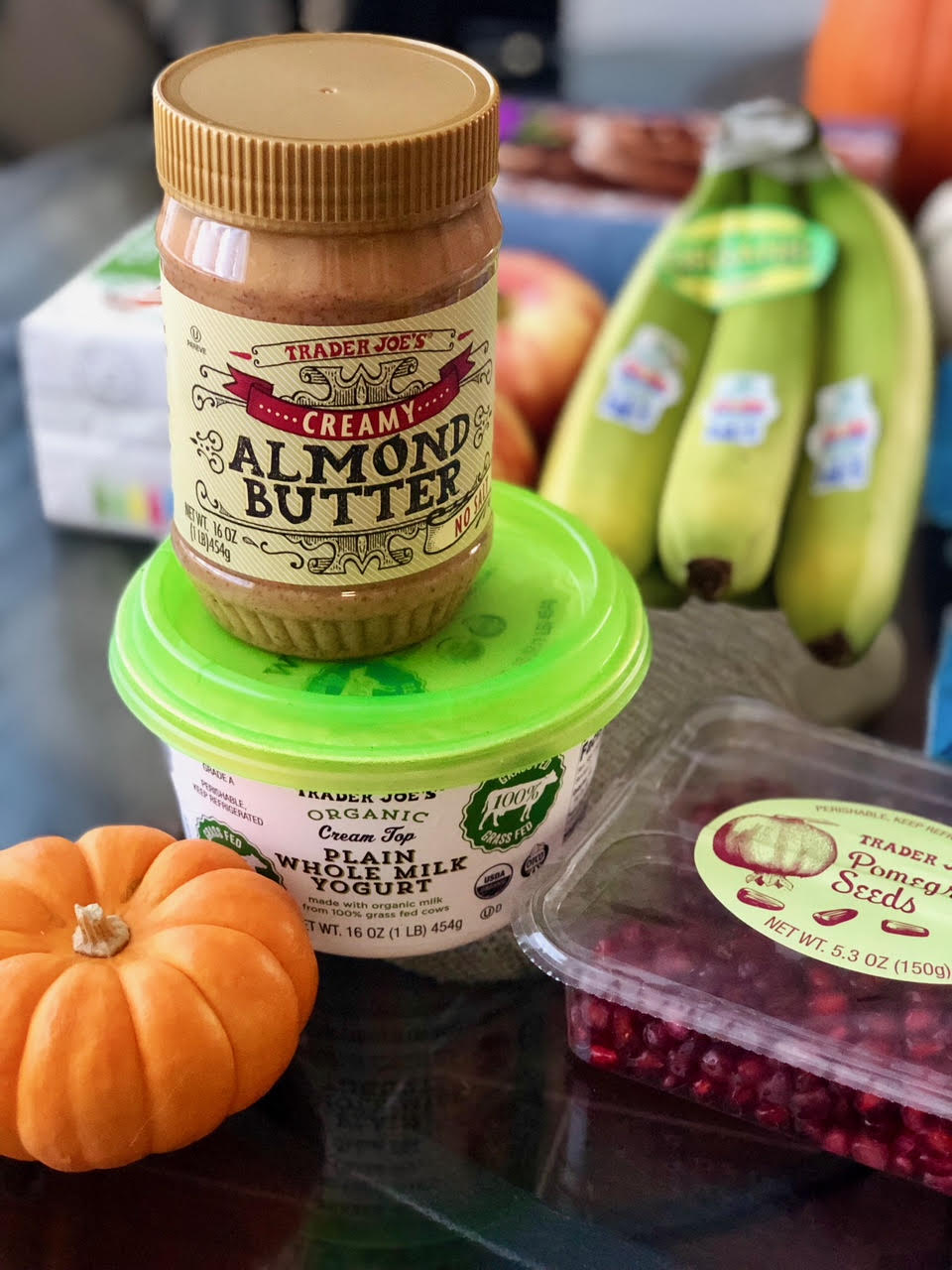 We try to go to the grocery store only once per week, but realistically, we'll forget certain things or run out of a particular item and have to make another trip. In general, we buy the same staple items each week. Of course, with things like fruits and vegetables, we try to purchase what's in season, as they tend to be fresher and less expensive. Below, I've included the staple items we purchased from the grocery store this week:
PRODUCE
-apples
-bananas
-pears
-grapes
-pomegranate seeds
-frozen mango
-mixed greens
-carrots
-avocados
-onions
-sweet potatoes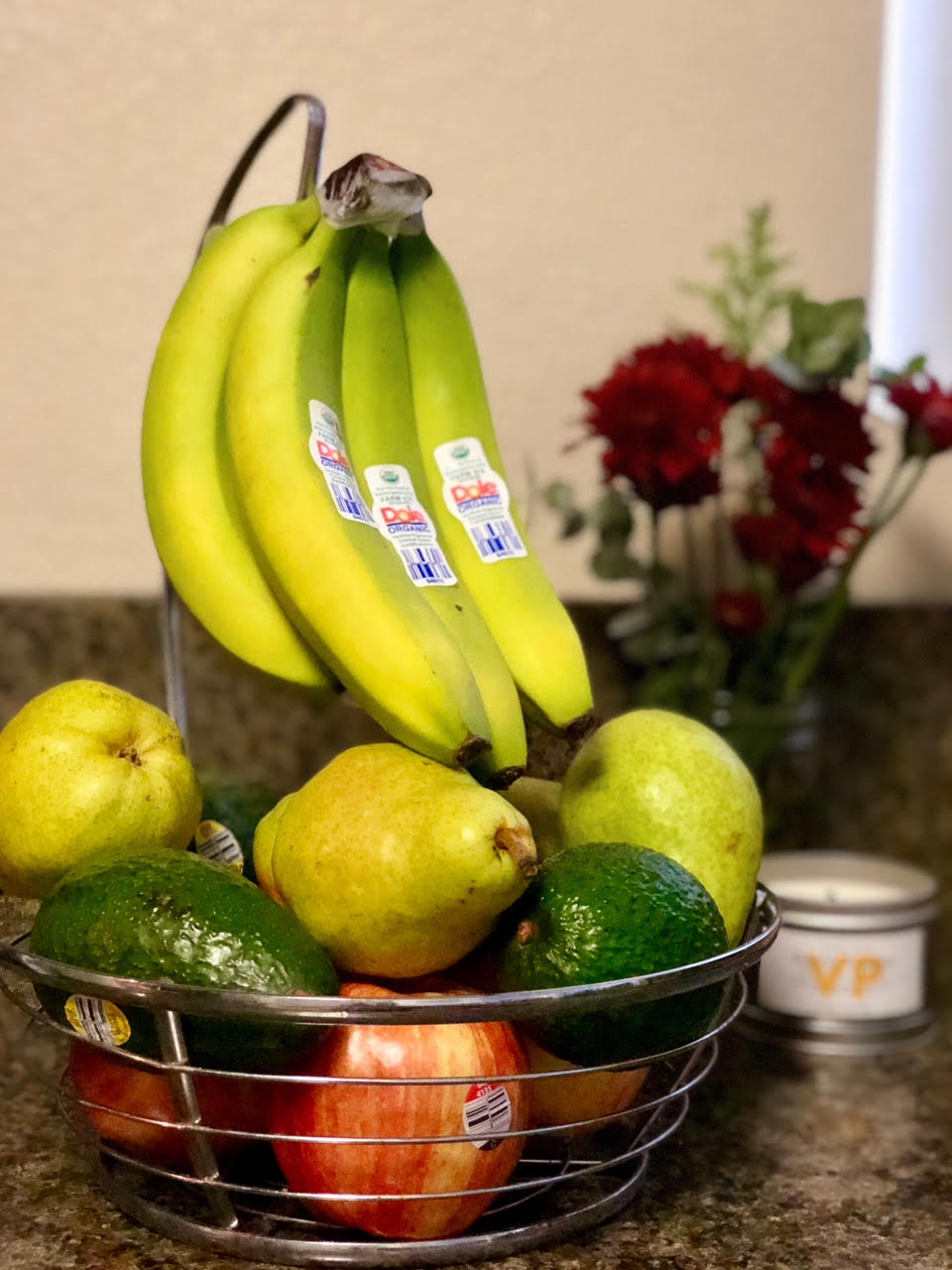 DAIRY
-milk
-yogurt
-cheese
GRAINS/BEANS
-bread
-granola
-quinoa
-black beans
-garbanzo beans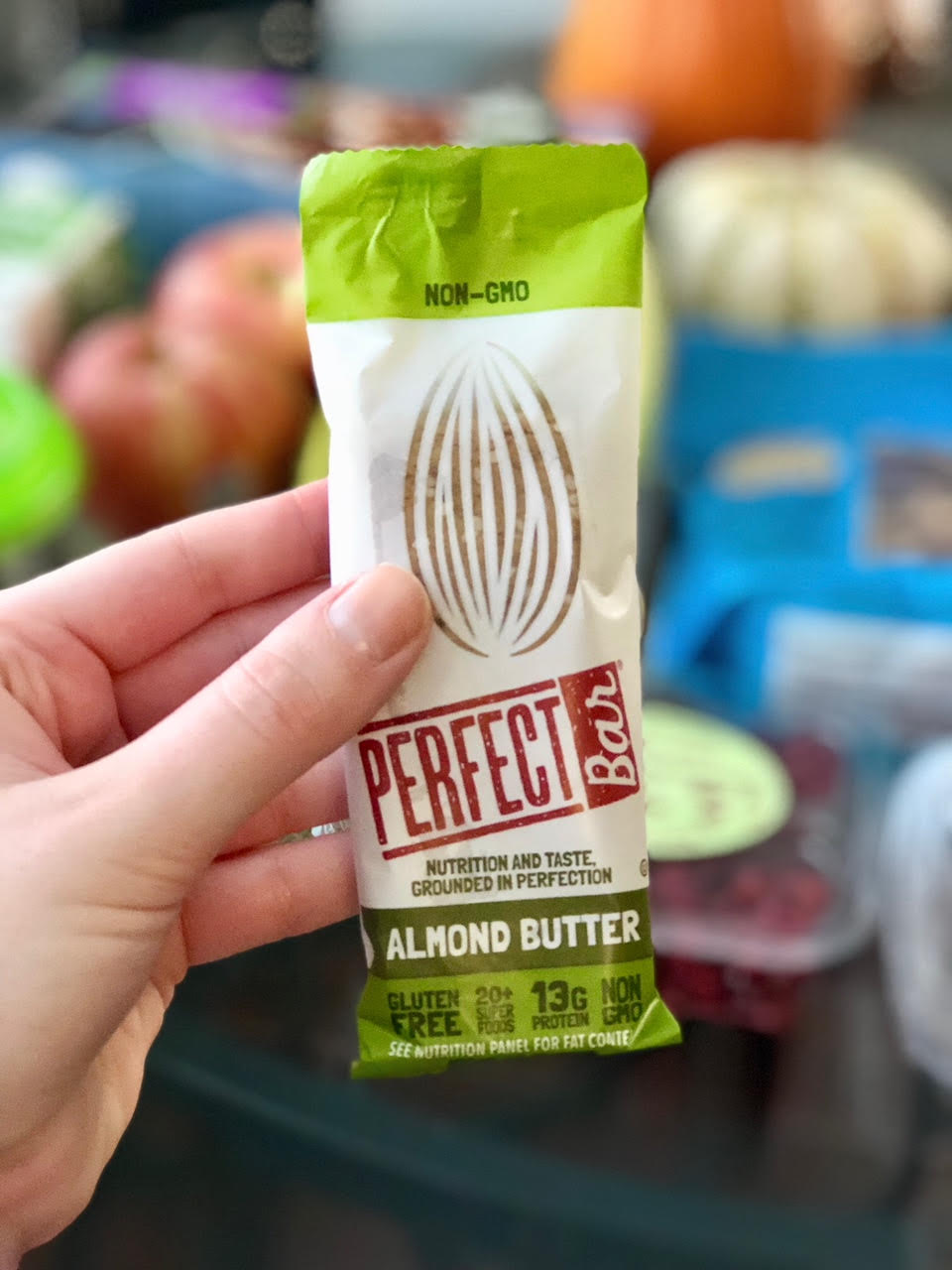 MISCELLANEOUS
-frozen waffles
-perfect bars
-trail mix
-coconut milk creamer
-almond butter
-peanut butter
-vegetable broth
I like creating weekly menus because I find that it helps me stay organized and make fewer grocery store runs. It's more work up front, but during a busy week, I'm always thankful I planned ahead.
We've done meal plans for years, but last year, while I was going through breast cancer treatment, we took a break for several reasons: 1. going through chemo, you never really know what you'll be able to stomach on any given day and 2. we really didn't do a whole lot of cooking. Thankfully, friends a family prepared meals for us and/or gave us restaurant gift cards and money for UberEats.
However, now that life has settled back to normal, I've loved getting back into my old routine. Every Sunday, I like to sit down and spend some time going through recipes. While I do enjoy cooking, I try to plan reasonably simple, fast meals for weeknights. Both David and I work full-time jobs. Combined with all of the time and work I put into the blog, we don't have a whole lot of free time to spend cooking elaborate meals.
I only plan out our dinners, as lunch is generally just leftovers from the night before and breakfast usually consists of oatmeal, waffles topped with yogurt, eggs and toast, or cereal, and these are all items we keep on-hand.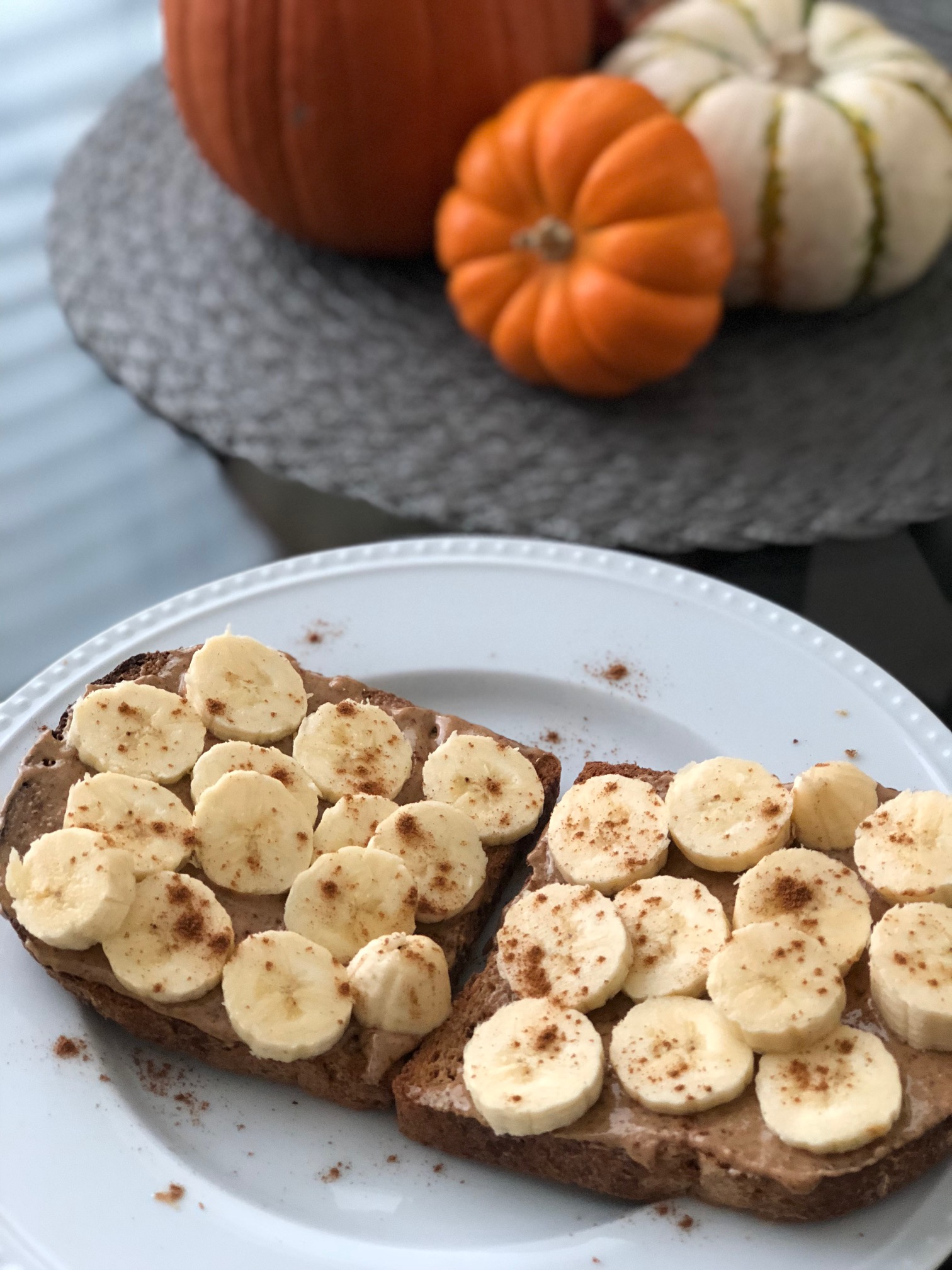 I also don't plan seven meals a week because I try to take into account leftovers, dinner plans with friends, and going out when we're just too lazy to cook. Four meals a week has been the magic number for us, but of course, family size, budget, and various other factors may mean you're number is different. Below is the meal plan I created for this week. Literally stepping away right now to go make enchiladas!
WEEKLY MENU
Sunday:
Black Bean and Vegetable Enchiladas
Monday:
Quinoa, Sweet Potato, and Grilled Veggie Bowls Topped with Avocado and Spicy Buffalo Sauce (no recipe for this one; just throw it all together)
Tuesday:
Pizza with Grilled Mushrooms and Onions, Jalapeños, and Avocado (we use Trader Joe's whole wheat pizza dough and
this
recipe for the sauce)
Wednesday:
Leftovers
Thursday:
Protein Style Black Bean Burgers
+ *Trader Joe's Frozen Sweet Potato Fries
Friday:
Leftovers
Saturday:
Dinner out (we'll actually be at a wedding this Saturday evening)
*We don't follow the cooking instructions on the bag. For deliciously crispy fries, bake on a cooling rack atop a baking sheet for 25 minutes at 475 degrees farenheit.