Weekend Update + Almond Cashew Coconut Granola
Hey, all! I hope everyone has been enjoying a wonderfully relaxing weekend thus far. As I mentioned earlier, this weekend is one of my last weekends of getting to do absolutely nothing for a while, so I've been doing my best to enjoy every last minute of it.
Yesterday I had an eye check-up, since I haven't done that in almost four years and I'm pretty sure those are supposed to be like an annual thing. My bad…Nothing very exciting to report, except that, yes, I should be wearing my glasses. Again, my bad. However, they did put some special drops into my eyes that made them glow in the dark, so I kind of had super powers for like 30 minutes. Also, it burned…
Anyway, after that, David and I went to the park near our place, so that he could keep me company while I ran laps around the track (best husband ever!) Except, after the first lap, I was bored out of my mind (and some people run for pleasure?!), so we decided to try something a little bit different. David basically became my drill sergeant as he told me different things to do back and forth across the field; sprint, walk, lunge, backward lunge (ouch…). It was so much more fun and probably ended up being a better workout for me than just running laps.
We also treated ourselves to some smoothies from this place in downtown La Jolla called Juice Kaboose. David wasn't too thrilled with the one he chose, but mine was awesome. Banana, date and apple juice.
At that point, we were sort of on a roll with the fun-having, so we decided to go out to dinner, since we pretty much never do that. It was a little bit tricky to find a restauran that fit with February's healthy choices resolution, but we ended up going to a place in Del Mar called Urban Plates. They use mostly local and organic ingredients, so we're gonna to call it good…
And now, since this post has probably been very much an unnecessary play-by-play of my uneventful Saturday, I give you granola. Enjoy!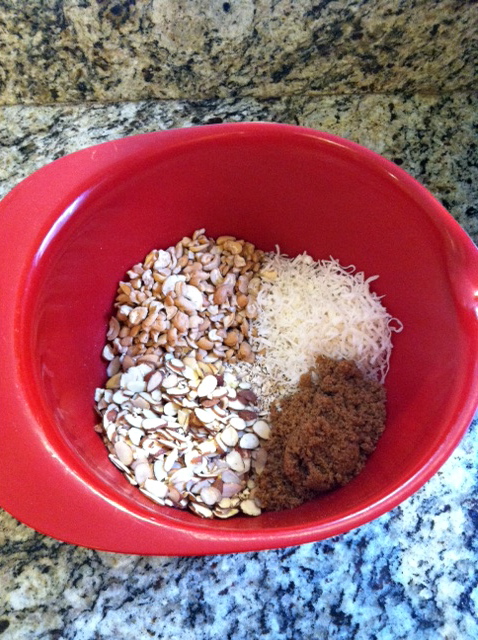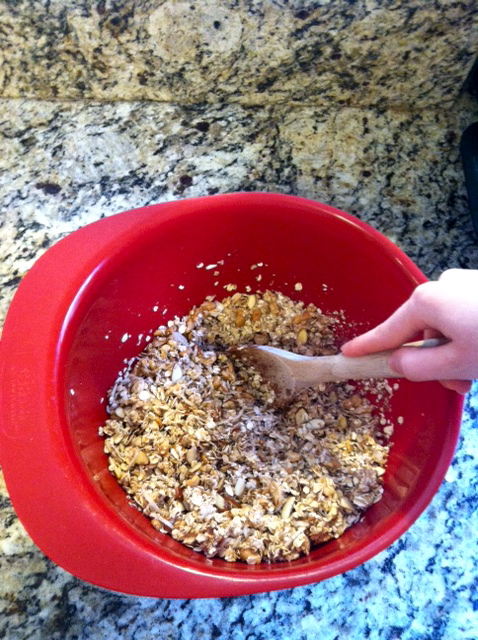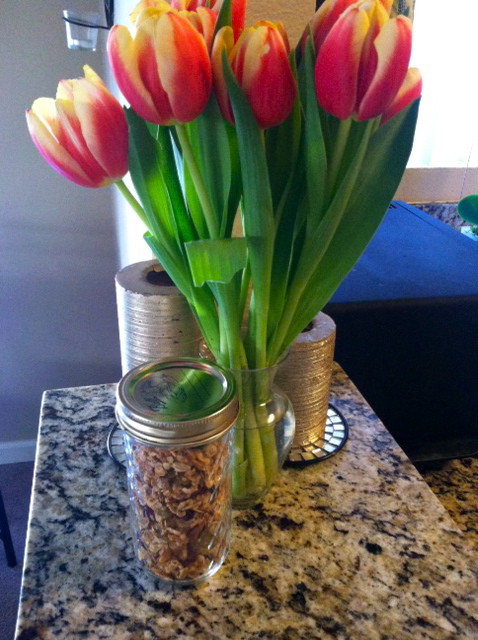 Almond Cashew Coconut Granola
Ingredients
3 cups rolled oats
1 cup slivered almonds
1 cup cashews
3/4 cup shredded, sweetened coconut
1/4 cup + 2 tablespoons light or dark brown sugar
1/4 cup + 2 tablespoons pure maple syrup
1/4 cup vegetable oil
3/4 teaspoon salt
1 cup raisins (I used a dried berry medley from Trader Joe's)
**Directions **
Preheat oven to 250 degrees Fahrenheit.
In a large bowl, combine the oats, nuts, coconut, and brown sugar.
In a separate bowl, combine maple syrup, oil, and salt.
Combine both mixtures and pour onto 2 sheet pans.
Bake for 1 hour and 15 minutes, stirring every 15 minutes to achieve an even color.
Remove from oven and transfer into a large bowl, stirring in raisins until evenly distributed.
Store in air-tight container for up to  2 weeks.
(Recipe adapted from Food Network)