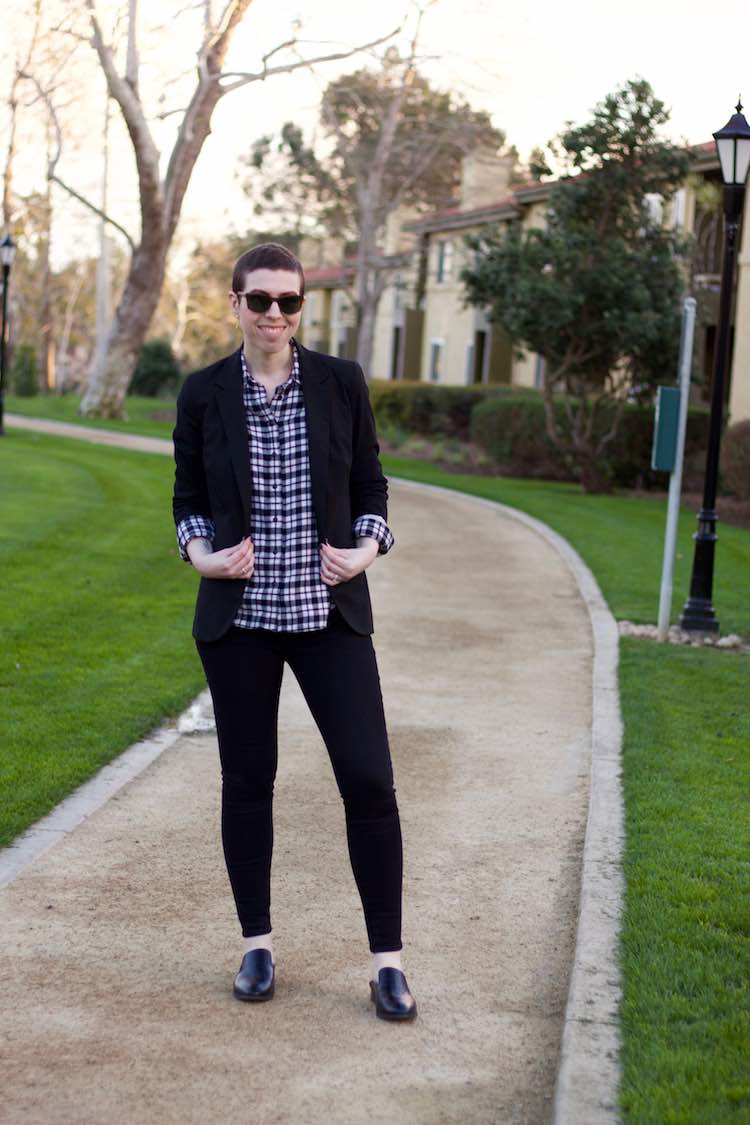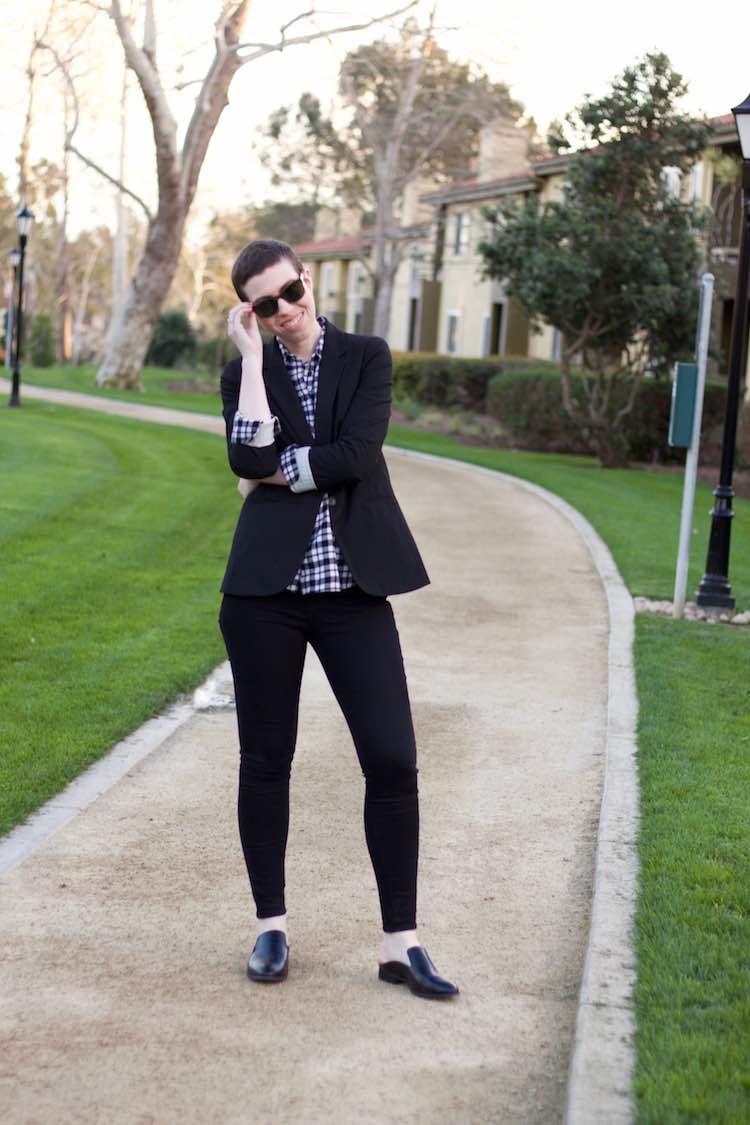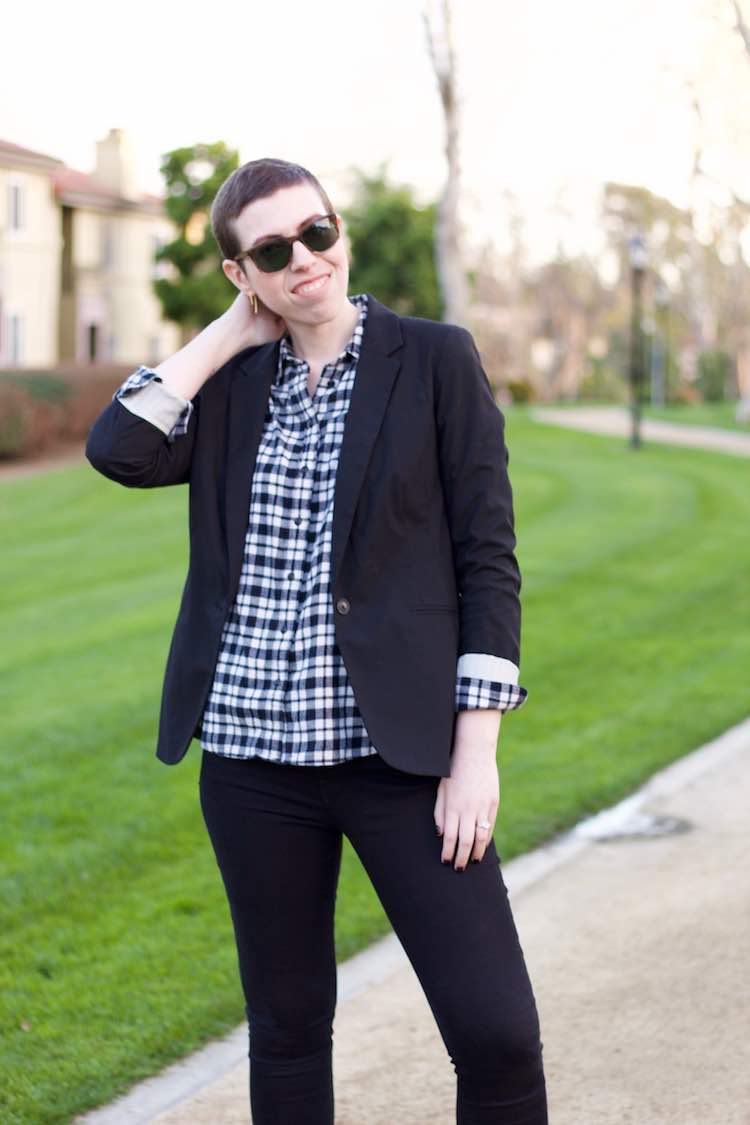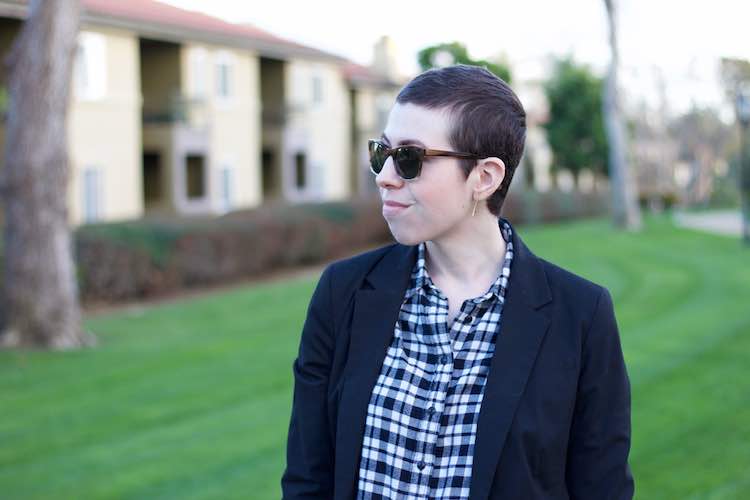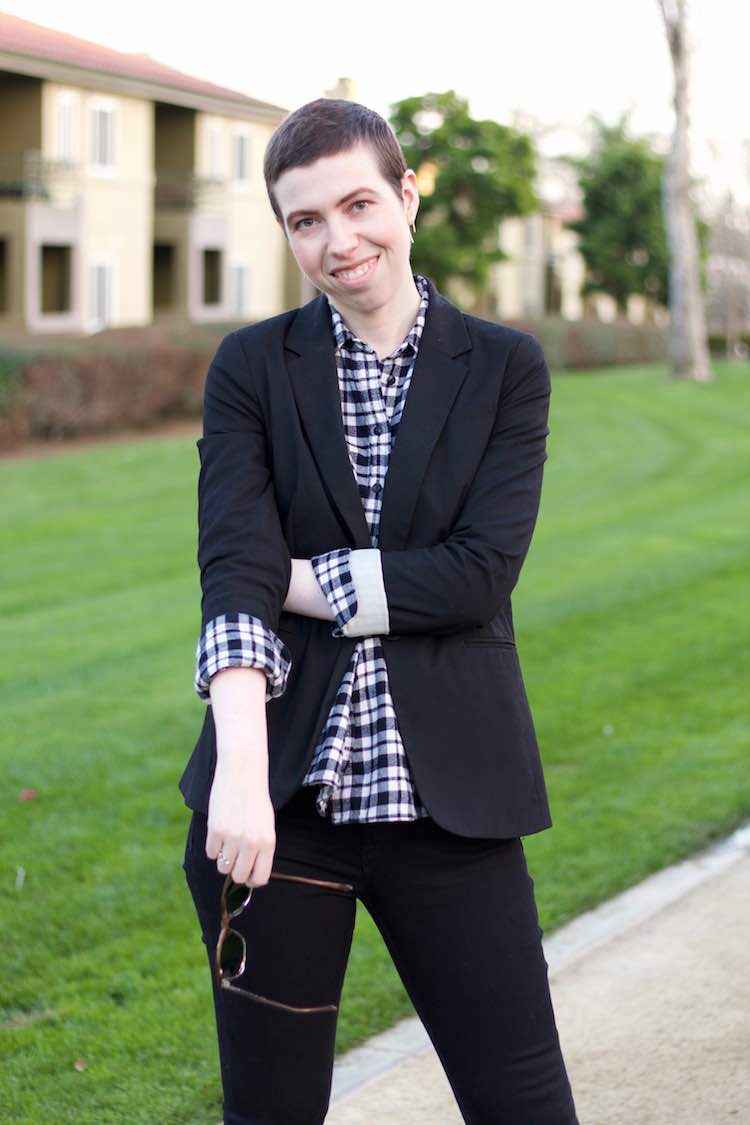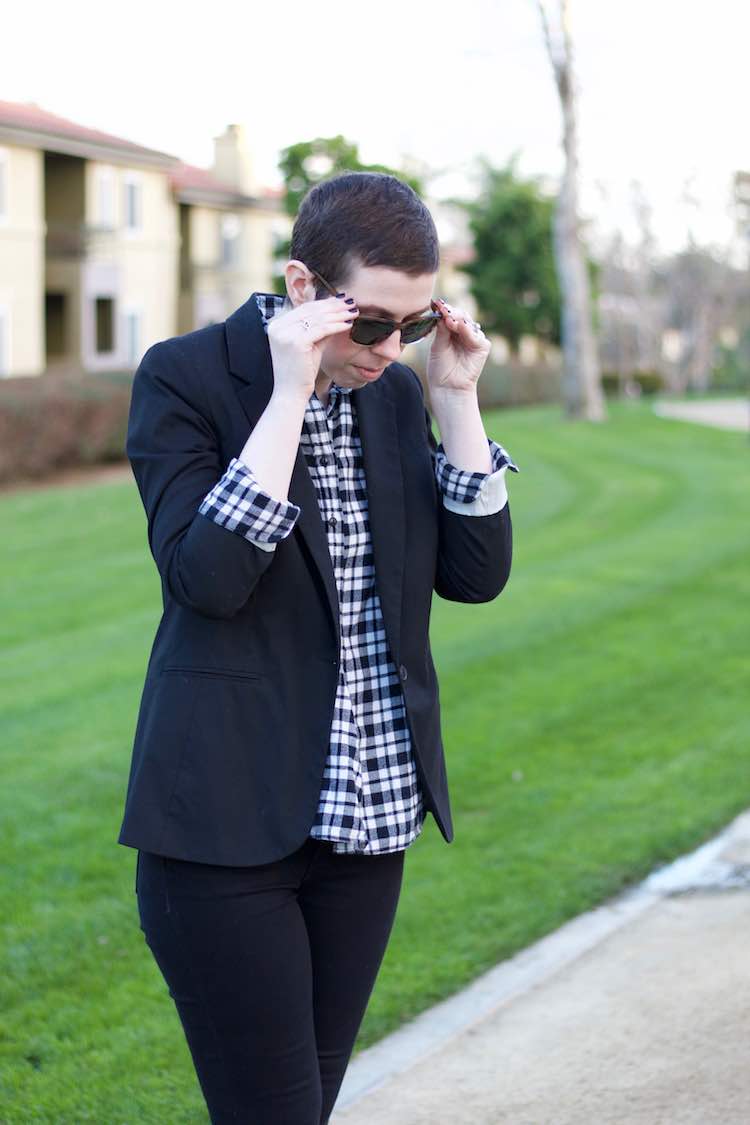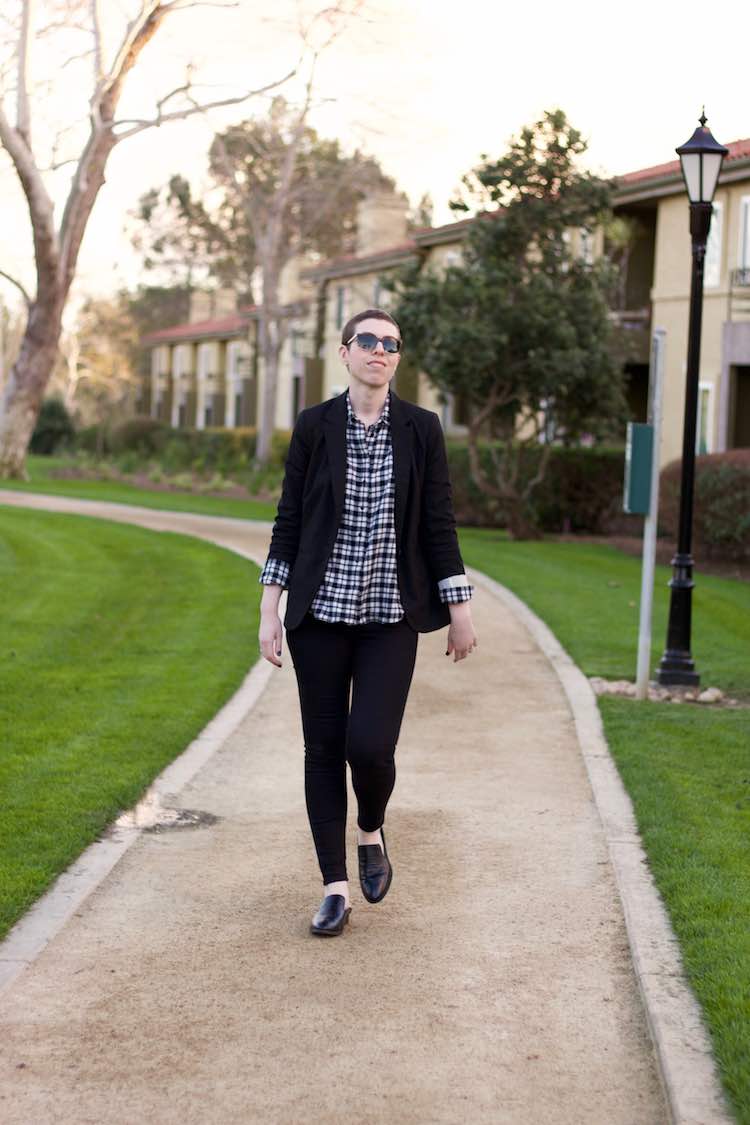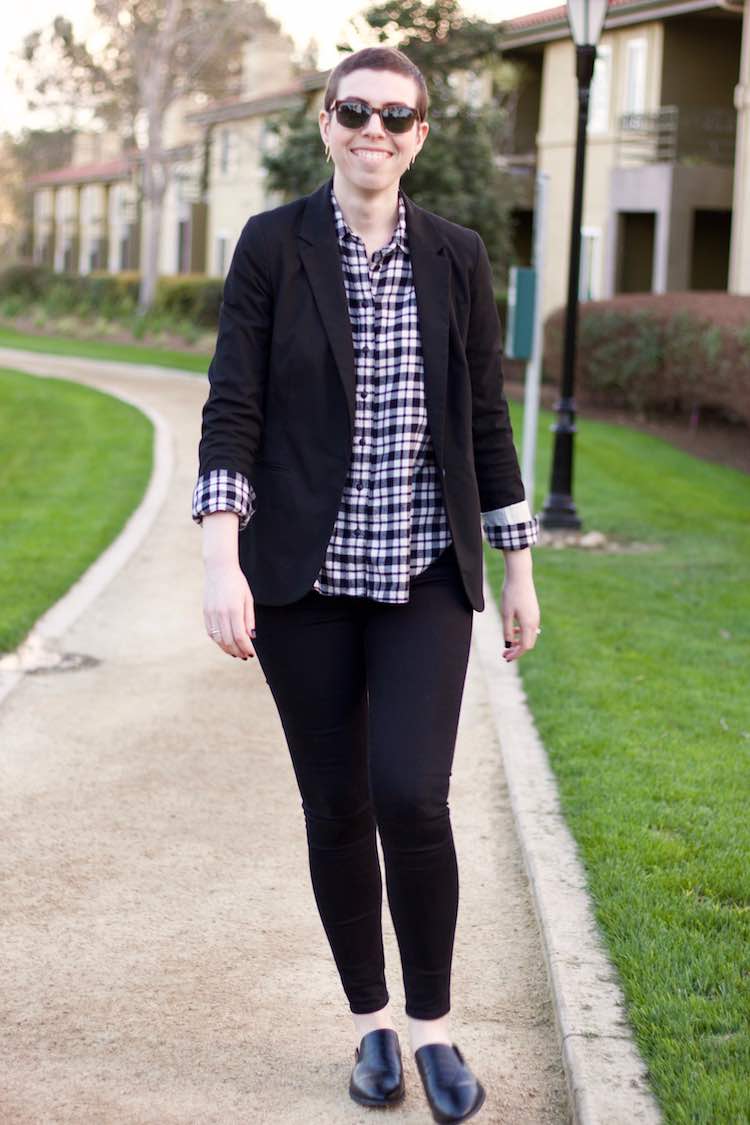 Shirt: Madewell (no longer available; similar); Jeans: Old Navy; Blazer: Target (old; similar); Mules: Treasure&Bond (no longer available; similar); Sunglasses: Warby Parker
Disclosure: This post contains affiliate links, which means that if you purchase a product through one of my links, I make a small commission.
I threw this outfit on in a daze, not really intending to wear something that would make it onto the blog. I wore it on a day when I knew we would be pressed for time to even take photos after work because we had a concert (I'll get to that...) to jet off to. But then, I topped it off with a blazer and like magic, the whole look came together. It's amazing how throwing a blazer on over an ordinary outfit can take it from "meh" to "totally put together" in an instant. I'm a big fan of any and all "borrowed from the boys" looks, and something about this perfect combination of all black + plaid +blazer + mules just really appeals to my sense of style.
So this concert: It was a 10-year anniversary tour of the On Letting Go album by the band, Circa Survive, a band that I got into back in my teens. When the tour was announced back at the end of last year, I thought to myself, "No, the album couldn't have come out 10 years ago because I remember listening to it when I was a senior in high school and that was only...oh, wait..." Then I quickly realized that 2017 is, in fact, 10 years after I graduated from high school. And then my back started to hurt and my knee started signing because it was about to rain and suddenly I felt really old.
We ended up having a really fun time at the concert, but I learned that adult Chelsea definitely does concerts a little bit differently than high school Chelsea. This time around involved earplugs, sensible shoes, a comfortable spot in the back of the venue, and a prompt exit following the last song. There was no moshing of pits, throwing of elbows, or rushing the stage; no desire to come home covered in the sweat of a hundred strangers (OK, fine. High school Chelsea didn't care for that part either.) and ringing in my ears for the next 24 hours.
It was a fun experience, but honestly, it felt like I was stuck in some kind of weird time warp. I swear, I was at the last Circa Survive concert 10 years ago with all of these same people. Yet none of them seemed to have left high school. The clothes were the same, the hair was the same, tattoos, piercings, you name it. Meanwhile, I feel like I've lived the amount of life equivalent to that of a 45-year-old woman...at least. Maybe I'm exaggerating, maybe not. Either way, I felt wildly out of place. Nevertheless, it was fun being nostalgic for an evening. And on a work night, to boot!
What did you guys enjoy doing in high school that makes you feel old nowadays? I'd love to hear! Let me know in the comments below.