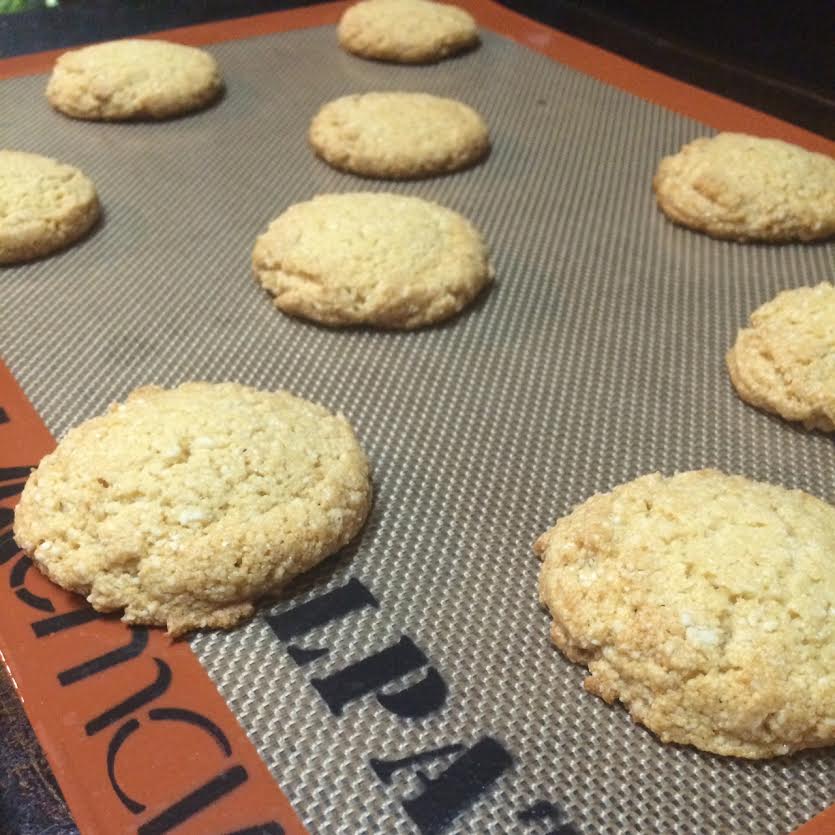 Hey, friends! It's FRIDAY!!! I hope you guys are as excited as I am!
Today I'm going to be sharing a super easy recipe for some guilt-free almond cookies. My friend, Emily recently introduced me to this app and website, really a community, called Tone It Up (it probably wasn't that recent, but just took me a while to finally check it out…) and it's inspired me to try to take better care of myself. I tend to go through peaks and valleys of being mindful about my health (I know, horrible!), so I guess you could say I'm at a peak right now. Hopefully here to stay too! I think one of the biggest problems I've had in the past is that I haven't been able to find an exercise and nutrition plan that's sustainable in the long-run for me. I'll do really well for a little while and then slowly revert back to my old habits. The nice thing about Tone It up though is that you have a whole community cheering you on, plus I have some real-life friends to hold me accountable. I'm a lot more motivated to get my workout in when I know that my friends are going to be checking in with me!
Anyway, all that to say, I've been trying to find some healthier recipes to satisfy my sweet tooth, which, let's be honest, sets in right after dinner every day. Since it's probably not a good idea to eat a decadent dessert after each meal, I wanted to find something that would hit the spot, but not make me feel terrible afterward. Cue Chewy Almond Cookies! I found these babies on Pinterest from the blog, Sweet and Savory by Shinee and then adapted them only a tiny bit.
Chewy Almond Cookies
Ingredients:
2 cups almond flour
1/2 teaspoon baking soda
1/4 teaspoon salt
6 tablespoons honey (The original recipe called for raw honey, but I didn't have any.)
4 tablespoons coconut oil, melted
2 teaspoons pure vanilla extract
almond slivers (optional)
Directions:
Preheat oven to 350 degrees F.

In a large bowl, whisk together almond flour, baking soda, and salt. Set aside.

In a small bowl, mix together honey, coconut oil, and vanilla extract.

Add wet ingredients to the almond flour mixture and mix well.

Shape the dough into one-inch round balls and place on a baking sheet lined with parchment paper or a silicon mat about two inches apart, then flatten with a spatula. (They will expand a little.)

Press an almond sliver into the top of each flattened ball, then place in the oven to bake for 8-10 minutes.

Cool for 5-10 minutes on the baking sheet and then transfer to a wire rack to cool completely.
Hope you guys like them! Let me know if you try this recipe and have a great weekend!