Fertility and Not so Good MRI Results
On Monday we had our fertility consultation. They did an ultrasound of Chelsea's ovaries to see how many eggs she had ready and went over the plan and options with us.
We were surprised at how involved it was (two shots every night for two weeks, daily blood draws, daily ultrasounds, then a surgery at the end to retrieve the eggs that were ready). I had thought it was just going to be, grab a bunch eggs, freeze them, good to go. It is obviously a much more involved process and she projected us to end up with 4-5 eggs that can be stored to then be unthawed later if they needed to be used.
On Monday we decided to move forward with this so we would have a few spares just in case the chemo and 5 years of estrogen blockers left Chelsea with no eggs left. We setup an appt for Wednesday to start the process and get all the materials needed.
On Monday we also had Chelsea's breast MRI. She is claustrophobic, but was a champ for the 30 minute MRI.
We were both able to go and work a full day on Tuesday and was a relatively nice day. Felt good to just be a little normal.
On Wednesday, in the morning, Chelsea had her PET scan and then we met with the fertility clinic again to grab all of the materials we would need.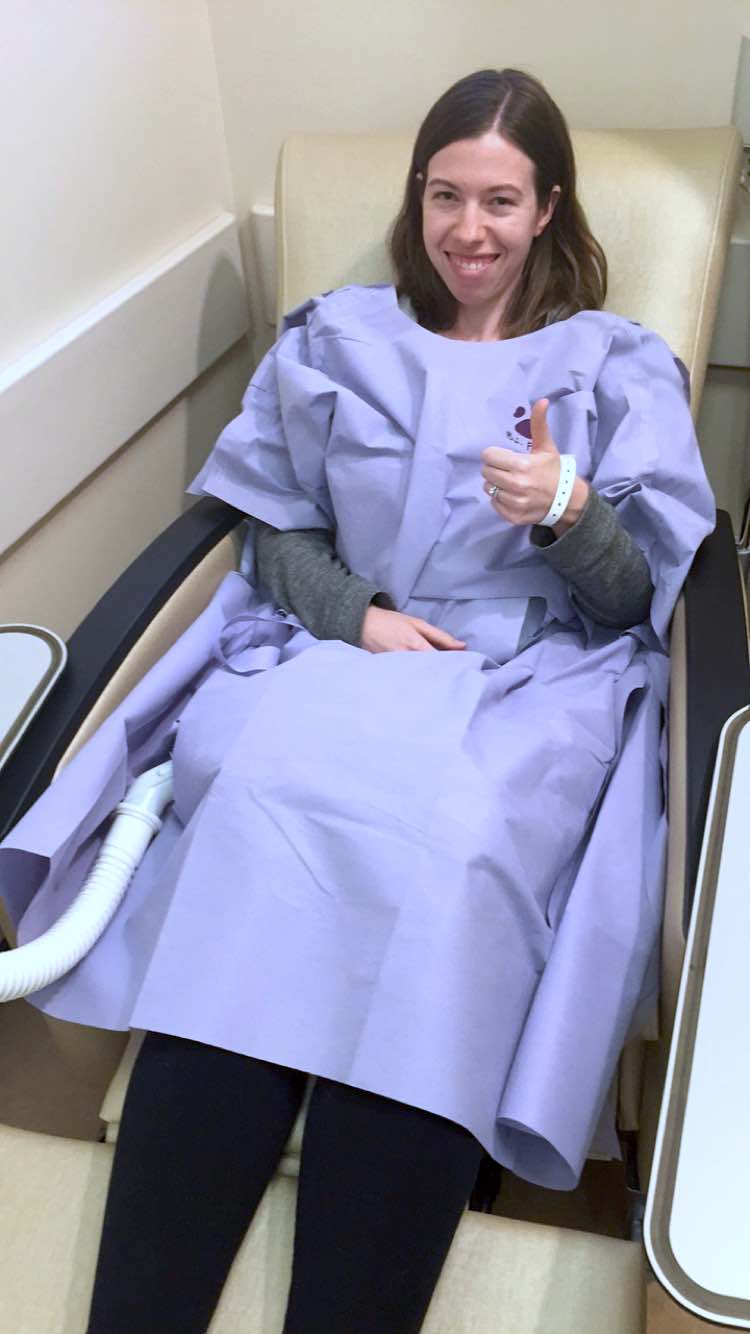 They went over how to do all the shots since we will have to do them ourselves at night and created appointments for her to come in each day for blood work and ultrasounds.
We were super nervous about the shots, but have a neighbor who is a nurse who said she would be willing to administer them so she wouldn't have to do them herself or have me do it.
Later in the day, her surgeon called with the MRI results. The results confirmed the three problem areas in her left breast, but also found a mass in her right breast.
This basically sent us into a complete panic. She has been having a ton of pain in her sternum and her shoulder blade for the last month that have had her worried that it has spread, and now it is in both breasts, that worry increased exponentially.
Our bone scan, which would complete all the scans and give us a full picture of what is there, wasn't until Tuesday, but, I was actually able to reschedule it to today (Thursday). I was also miraculously able to reschedule our oncology appointment and our surgeon appointment to today so we now have the scan at 2pm, oncology at 3pm, and surgeon at 4pm.
This is good because we will now have all of our information today. We want to know the results, but are also scared of what they will show. So far, every tests has shown something worse, but we are hoping that has stopped.
With this news of the mass in her other breast, we decided to hold off on starting the fertility treatment. Since we find out all the results and will know everything today, we will decide then with the doctors if we can wait the two weeks to start chemo and do the fertility, or if we need to forgo fertility all together and start chemo right away.
Tonight was pretty rough after hearing all of the news. More and more bad news makes her understandably more and more fearful that more bad news will come she won't make it through.
Most of our days are filled with me just telling her it is going to be ok, us praying together, and trying to fight off the sheer panic and fear that seems to be constantly surrounding us.
I feel like we are doing so much leaning on God while also being so scared at the same time, which seems like opposites. We are supposed to leave our worries with him and trust in his plan, and we want to so badly, but we literally can't think about anything else.
It is so hard not knowing the story that is being written. I fully believe that Chelsea's story is not going to be over with this battle, but instead this is going to set us both on a path much more amazing than we ever thought we would have.
After every bad wave that has hit us we pray that the waves would stop and we can just battle from that point. So far, that hasn't happened and we keep getting hit. We are praying so hard and would love to get prayer as well that these last two scans will come back clear and the MRI could be the final bit of bad news. That way we could breathe a little bit and battle the cancer in her breasts rather than a cancer that has spread elsewhere. It would just be so devastating and would be the biggest blow to find out it has been spreading throughout her body.
While I want this whole thing to glorify God in the end and for his story to be written, I am also praying so hard that the bad news part would be over right now. I just want the bad to stop so we can start fighting forward. I have also not given up praying for full healing. Really, we are kind of praying for everything. Full healing, no more bad news, healing of any cancer we don't know about yet, strength, peace of mind, knowledge for decisions, just some way of letting her know she will be ok in the end, etc. Basically everything haha.
Today is a very big day. Could be very relieving or could be the worst day yet.
Prayer Requests
Complete healing
No more bad news or areas of cancer spread
That God would let us know what decision to make in regards to proceed with either egg harvesting or starting with chemo
That God would provide peace for us
Strength to trust and lean on God
Schedule
Today:
Genetic Specialist - 9am
Bone Scan - 2pm
Oncologist - 3pm
Surgeon - 4pm