NYC Travel Diary Day 6: Flatiron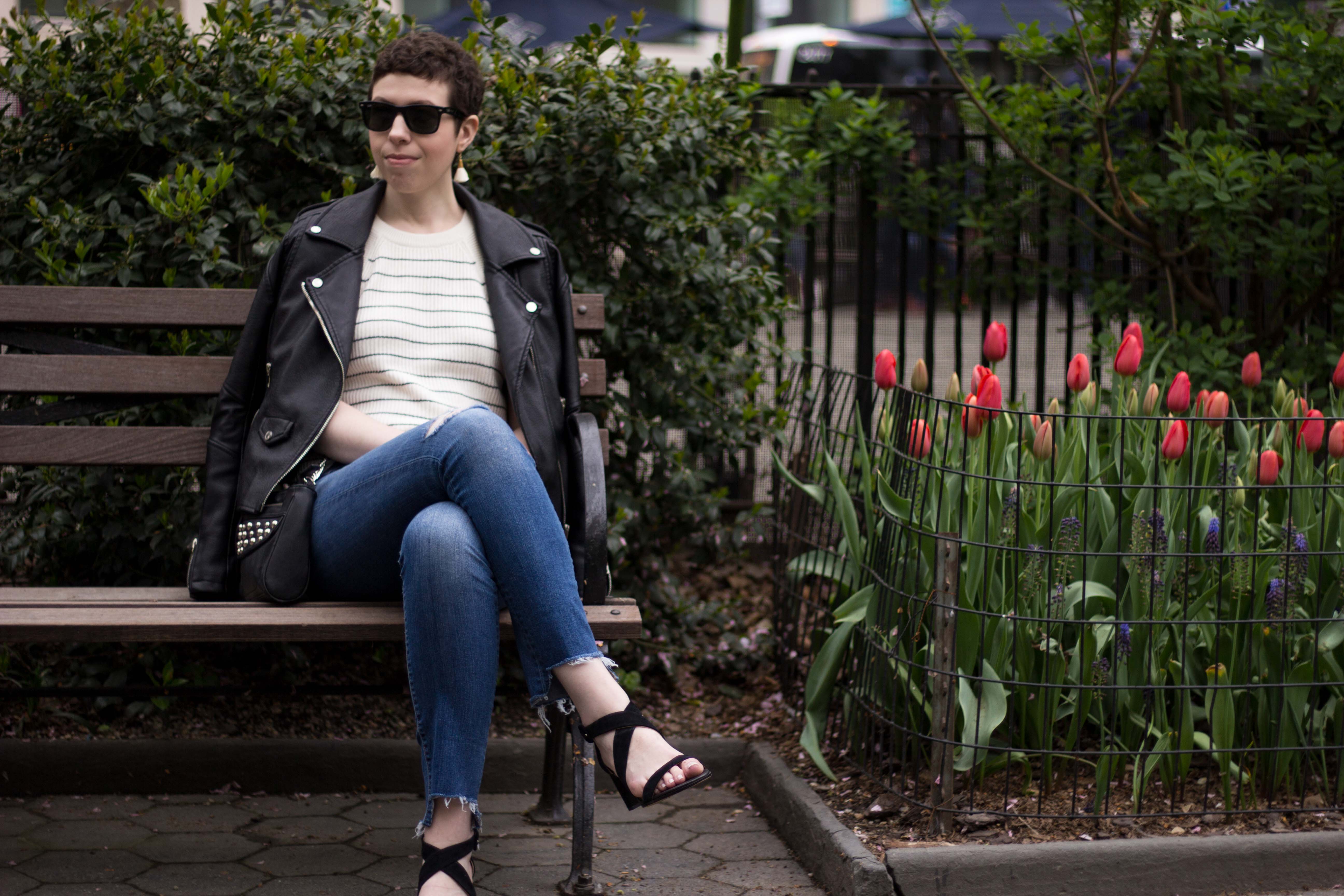 Tulips in Madison Square Park.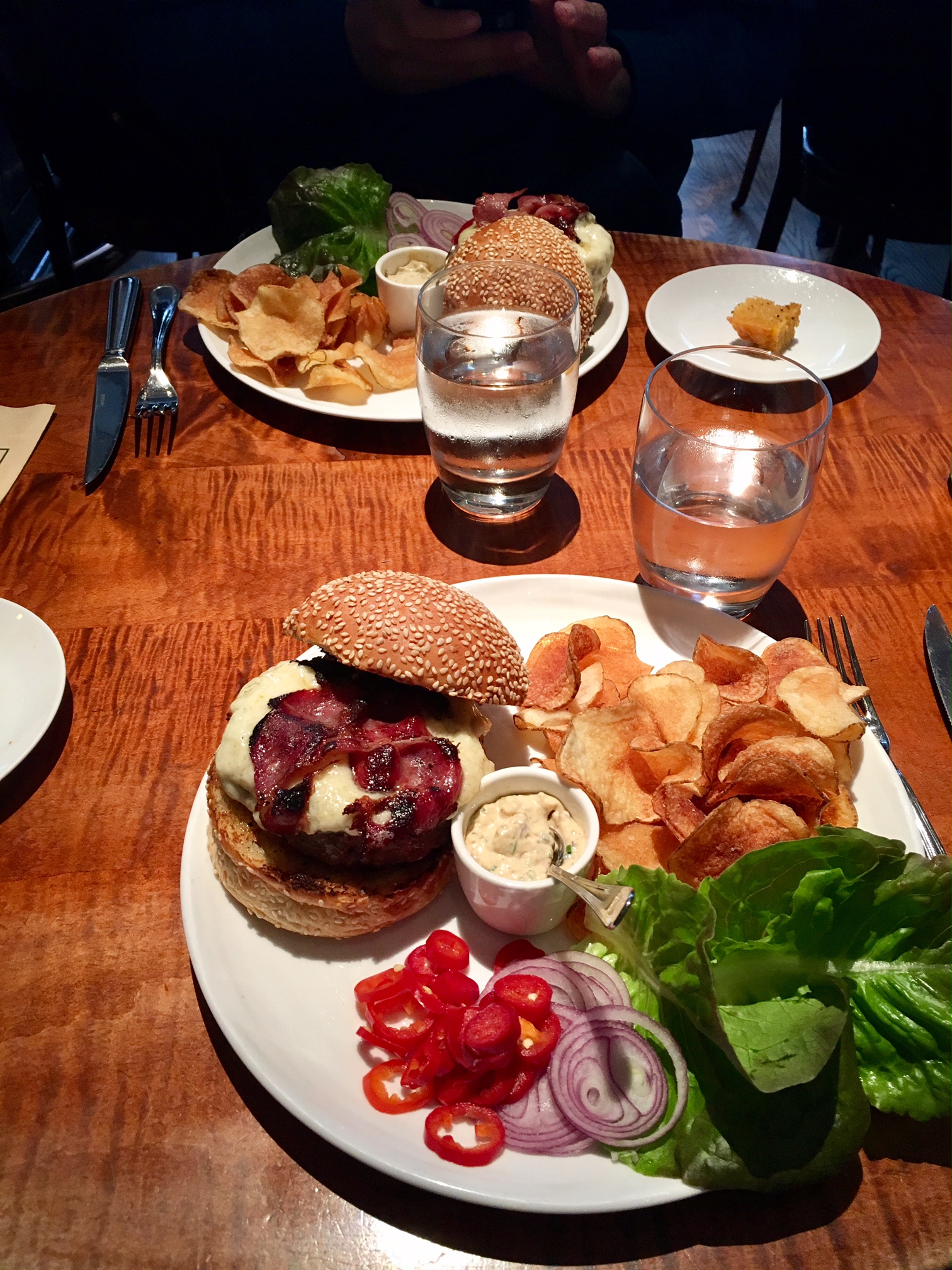 The famous secret menu burger from Gramercy Tavern.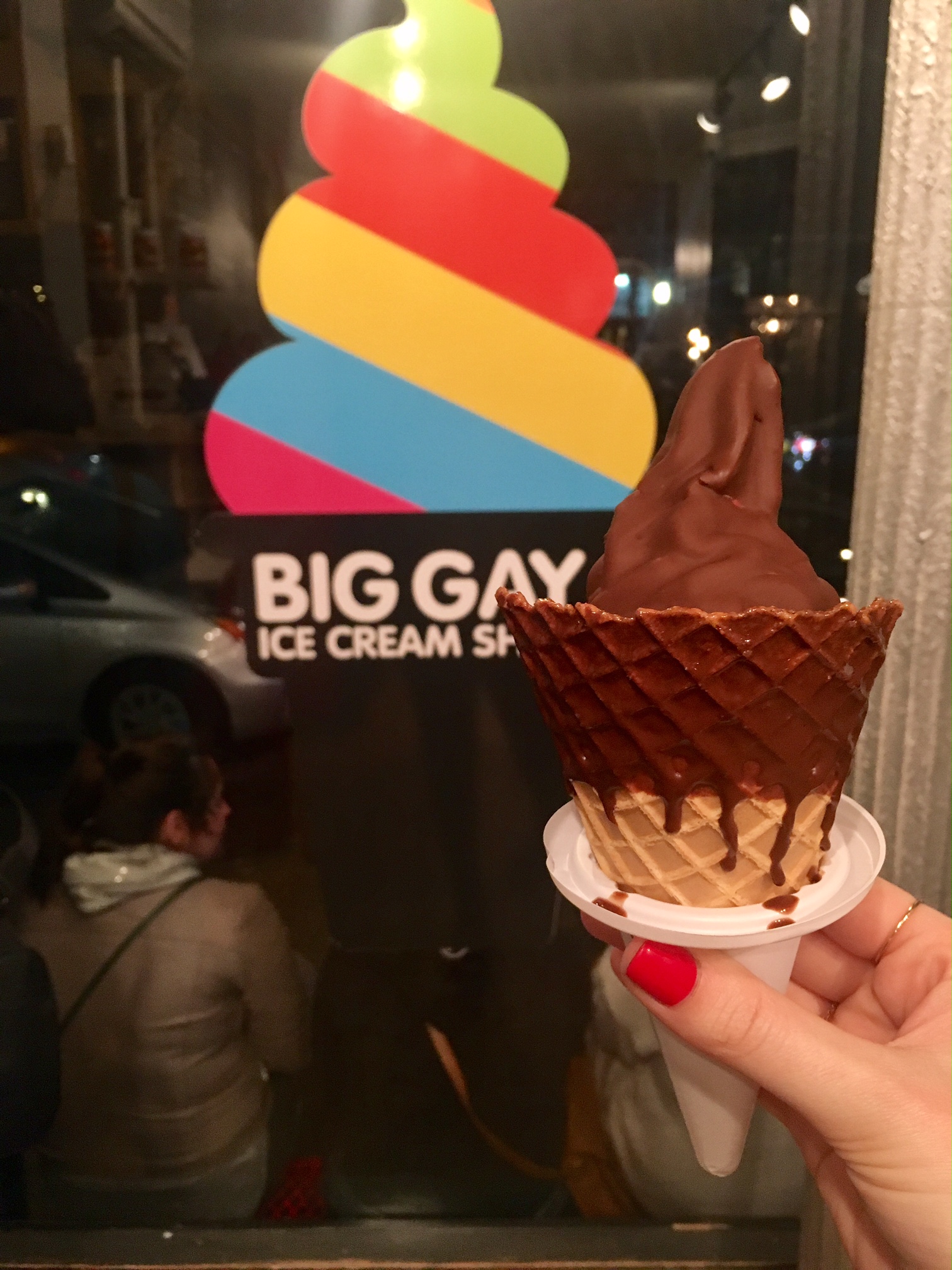 Chocolate-dipped soft serve twist from Big Gay Ice Cream in LES.
Today was spent kind of all over Manhattan, but primarily in the Flatiron District. The last time we were in New York, we spent a bunch of time in this area and ate at the Shake Shack in Madison Square Park on more than one occasion, but on this trip, today was our first day in this part of town.
Before we hit up Flatiron, we stopped for breakfast at Cookshop in Chelsea. For having a large number of four- and five-star reviews on Yelp, this place was decent, at best. I ordered the pancakes with fresh rhubarb and David ordered the fried egg sandwich. Both were just fine.
Next, we took a Lyft to the Flatiron District. If you're familiar with this area, you'll know that Eataly is located in the heart of Flatiron. The last time we were here, Eataly was a made house. It was mere days after Christmas, so trying to walk through the place was nuts. Today however, there was practically no one there. It may have also helped that it was early in the morning. We walked around for a bit and then hopped over to Stumptown for some coffees.
After our caffeine fix, we walked over to Gramercy Tavern. David is a fan of a Youtube series called Worth It where the hosts of the show will sample three different meals, usually the same item, at three dramatically different price points and then determine which of the three is most worth it for the price. The majority of these shows take place in the LA area, but this particular one was all about secret menu items. The first price point, a peanut butter bacon burger you can order at Shake Shack. The mid-price point, the cooked-to-order burger from Gramercy Tavern. This item was actually created out of the head chef's desire to not see anything go to waste. So you're basically eating ground up bits of various cuts of beef. It's then topped with cheese, lettuce, peppers, onions, and if you like, bacon.
The burger was out of this world. I was even brave enough to eat it medium rare (how it typically comes) when I'm usually a "no pink" kind of burger-eater. It also came with a side of homemade chips that were perfectly crispy.
Worth It also happened to do a New York segment on cheesecakes, so we decided to hit up the lowest price point spot, a little place called Eileen's Special Cheesecakes in SOHO. It was fine. Nothing too exciting, but I guess cheesecake is just cheesecake no matter where you eat it.
Then we wandered around SOHO for a bit. We stopped into a place called Rice to Riches, a desert shop that specializes in different varieties of rice pudding. I sampled a couple, but then decided not to order anything. In theory, peach and mango flavored rice pudding sounds good, but in reality, I really just want good ol' fashioned plain rice pudding.
After walking around for quite bit, we were both completely pooped. We may eat a ton on vacation, but I swear, we walk it all off every day. We headed back home and crashed for a little bit.
After resting, we got ready and headed to Root & Bone in LES. This place was recommended to me by my friend, Stacy. The place had really cute aesthetics, but I was worried because I often find that really cute-looking places have only sub-par food. Boy was I wrong. Root & Bone is known for their friend chicken and it was delicious. We both ordered fried chicken sandwiches on biscuits, which were melt-in-your-mouth good. They serve them with honey Tabasco sauce, which is pretty much the most genius idea ever. We also split the mac n cheese and grilled corn. Everything was sumptuous!
After dinner, we walked a few blocks to Big Gay Ice Cream for some soft serve. David and I both went classic, with the chocolate dipped swirl cones. We ate our ice cream on a bench out front. I somehow managed to not get chocolate ice cream all over my face. If you know me well, you know that this is quite a feat for me. Once we finished dessert, we hopped on the train back home.
I can't believe tomorrow is our last full day in New York. This trip has literally been everything I could have hoped for. You know how sometimes you build something up in your head, but then the reality is not nearly as awesome as the picture you had in mind? Well, that was so not the case for this trip. It was exactly what I wanted and so much more, truly the perfect way to kick off the next healthy chapter of life.
From the bottom of my heart, I want to thank you all for following along on this journey with me. Tomorrow brings new adventures and I cannot wait.
Hope you have a great day and as always, thank you so much for stopping by.